C
osta Rica is probably the best place on earth for birdwatching. There are more types of birds in Costa Rica than in all of North America. On a recent tour of Costa Rica, led by California Native guide Lynn Reinecke, the group compiled a list of birds they sighted: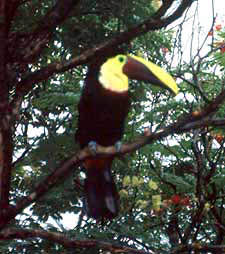 Great Blue Heron
Snowy Egret
Olivaceaous Cormorant
Mangrove Swallow
Roseatte Spoonbill
Anhinga (Snakebird)
Northern Jacana
Royal Terns
Masked Ducks
Black Vultures
Amazon Kingfisher
Green Heron
Bare Throated Tiger Heron
Green Ibis
Magnificent Frigatebird
Great Egret
Red Lored Parrot
Olive Throated Parakeet
Orange Chinned Parakeet
Great Egret
Slatey Tailed Trogon
Collared Aracari
Fiery Aracari
Keel Billed Toucan
Chestnut Mandibled Toucan
Montezuma Oropendula
Yellow Crowned Night Heron
Green Kingfisher
Spotted Sandpiper
Brown Pelican
Cattle Egret
Willet
Turkey Vulture
Crested Caracara
Black Shouldered Kite
American Kestrel
Black and White Hawk Eagle
Scarlet Macaw
Crested Owl
Baird's Trogon
Ringed Kingfisher
Blue Crowned Mot-Mot
Pale-billed Woodpecker
Linneated Woodpecker
Golden Naped Woodpecker
Ruddy Foliage Gleaner
Scissor-Tailed Flycatcher
Yellow-breasted Flycatchers
Squirrel Cuckoo
Long-tailed Tyrant
Clay Colored Robin
Mountain Robin
Three Striped Warbler
Collared Redstart
Black Cowled Oriole
Great tailed Grackle
Red Legged Honeycreeper
Blue-Gray Tanager
Scarlet-Rumped Tanager
Buff-Throated Saltator
Orange-Billed Sparrow
Yellow Thighed Finch
Resplendent Quetzal
Groove Billed Ani
Violet Saberwing Hummingbird
Green Violet-Ear Hummingbird
Green Crowned Brilliant Hummingbird
Purple-Throated Mountain Gem Hummingbird
AND OTHERS...
Click Here for information on our Costa Rica Tours.