M
exico's Copper Canyon is more than breathtaking scenery.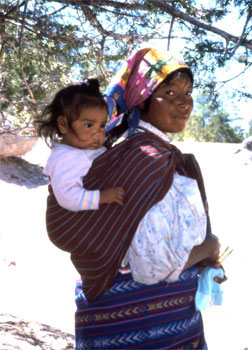 It is also the home of the indigenous Tarahumara.
At California Native, we have been introducing guests to this area for more than a quarter of a century. Over the years, our guides have become friends with many of these otherwise shy people who look forward to our frequent visits. Many of our guides have also organized projects which benefit the lives of the Indians.
Operations Manager Laurie Kraft is often accompanied on trips by her sister, Karen, a registered nurse. Karen collects contributions of medical supplies to hand deliver to clinics in Copper Canyon's mountain communities. The two also collect stuffed animals as well as backpacks and school supplies for the children.
Our guides encourage visitors to bring items that the children really need, instead of candy.
The Tarahumara, by tradition, have an economy based on barter and sharing. In their language the word kórima implies the obligation to distribute wealth for the benefit of everyone. A number of years ago, California Native guides Lynn Reineke and the late Doug Stewart conceived the Kórima Food Project to help the natives during severe droughts. They created a system of buying Tarahumara handicrafts, selling them in the United States, then using the profits to buy food, which they gave in exchange for more crafts. The program provided the Tarahumara with food while allowing them the dignity of not having to accept charity.
Long time guide Lori Klein made a special trip to Copper Canyon with two anthropologists, who brought treadle sewing machines, along with bolts of fabric and supplies, for a project and documentary film titled "Threads of Discovery." The purpose of the project was to make it easier for the local women to preserve their native dress styles. Lori, who served as translator between the film crew and the natives says, "It was a very unique and interesting experience—definitely unforgettable. One of the things I remember about one of the communities is that they actually denied the gift because they felt is would cause too much commotion and competition within their community."
We at California Native embrace the Tarahumara Community being careful to stay within their cultural boundaries.
Click Here for information on our Copper Canyon Tours.