T
he remote Sierra Madre Mountains of Mexico hold many surprises. Not the least of these is the existence of a most unusual lodge, whose construction and location make it an anomaly in this primitive area of rugged mountains and cave-dwelling Indians.
Picture yourself on our 11-day Ultimate Copper Canyon Adventure. We're traveling along the highway between Batopilas and Creel when we suddenly turn off the road, ford a stream, and follow a dirt track into the wilderness. The journey is exciting, and the views are breathtaking as the roughly defined track climbs and descends grades which top 15%. After an hour-and-a-half we reach a wooded plateau in the middle of nowhere. Here, on the edge of a chasm, is the Hotel Tejaban, a glimmering white edifice, somewhat resembling a flying saucer on stilts, perched thousands of feet above the Urique River.
This hotel is the culmination of the dream of the charming and eccentric Colonel Edmundo Lujan de Anda. As we enter the lobby, with its polished marble floors, huge circular fireplace, and spectacular 360° views, we are greeted by the Colonel himself, who is eager to tell us how, while piloting his small airplane, he discovered this site and dedicated himself to building his dream here. Formerly a flyer in the Mexican Air Force, he accumulated a small fortune cropdusting and working in the oil fields of Mexico and Texas.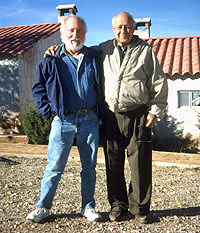 Among his friends, he counts ex-President George Bush, and, when coaxed, will reveal little-known information about George W.
The Colonel cordially invites us in for a welcoming margarita, then, continuing with his story, explains that after negotiating with the Tarahumara Indians for the land, he enlisted the skills of his son and daughter, the one an architect, and the other a civil engineer, to come up with the unique plan for the hotel. Retiring to our rooms for a much needed nap, we are pleased to find the rooms modern and spacious, and including such thoughtful amenities as a fire place, purified tap water and cable television. Dinner is served at tables overlooking the canyon, and as we enjoy the cuisine, the sunset repaints the mountains in soft reddish hues.
Next morning, well rested, we walk along a forested path leading down into the canyon. Here we run into Tarahumaras on their way to the Colonel's store to buy supplies, which they will pay for in the same coinage used in this area for centuries—silver nuggets.
In future years this unlikely juxtaposition of the past and present, the luxurious and the rustic, will place itself among the many wondrous memories of our journey to this region where times and cultures combine to form the strange coalescence of worlds that we call Copper Canyon.
Click Here for information on our Copper Canyon Tours.